Evening classes start Monday, March 25, 2013. Classes last six weeks, and end the week of April  29.
A beautiful, convenient, green facility: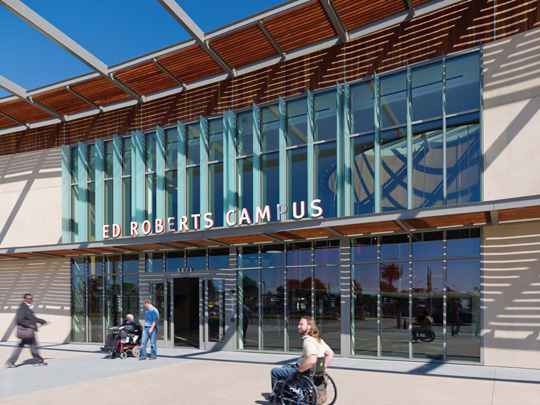 The Ed Roberts Campus Building

ALL NEW:
Become a Certified Green Building Professional at SFIA
Become a Certified Green Building Professional in only six weeks of evening classes and part-time study.
A six-week semester, three evenings a week, starting March 25, 2013.  Two classes nightly:   6:30 – 7:45 p.m. and 8:00 – 9:15 p.m.
Tuition for the complete six-week Green Professional Certification program is $900 for 18 units of credit.
Option:  You can enroll for 3 units of credit per individual class for $250 each.
Certificates of Completion will be awarded upon completion of course work and final payment of tuition. if due.
$250 tuition for each standalone class listed below, or $900 for all six classes, to earn your Green Building Professional Certificate.


CLASSES:


MONDAYS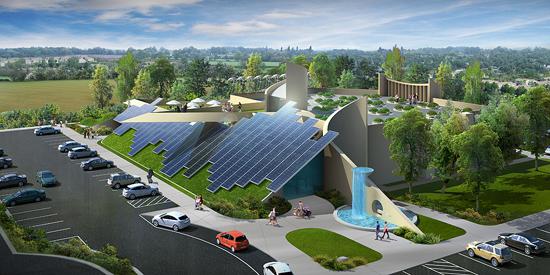 California Conservation Corp building by SFIA MArch graduate, Arthur Dyson.
E-50
EVERYTHING ECO
Green Building Materials and Methods;
Energy and Environment
Mondays,  6:30 – 7:45 p.m.
3 units. 6 weeks. $250.
Class starts Monday, March 25, 2013.
Instructor: Fred Stitt, Architect, Director, SFIA.
This course has been presented as a workshop to architects in most major cities in the U.S.  It is the most comprehensive introduction and overview of green building design, construction and alternative environmental systems available anywhere.
Topics include alternative materials and construction methods, green walls, green roofs, plantscaping, natural lighting, heating and cooling, bioremediation, toxic and healthy materials, and how to minimize construction costs.
The class focuses on how to create completely self-sufficient buildings that improve human health and enhance the natural environment.
About the instructor:
Fred Stitt is the Founder/Director, SFIA and author/editor of The Ecological Design Handbook, and many other books on the technical and managerial aspects of architectural practice.  He founded SFIA in 1990, after researching and identifying the primary problems in architectural education, while teaching at the University of California, Berkeley.
DE-250
GREEN RETROFIT
Analysis, Design, and Construction
Mondays, 8:00 – 9:15 p.m.
3 units. 6 weeks. $250.
Class starts Monday, March 25, 2013.
Instructor: Fred Stitt, Architect, Director, SFIA.
This class teaches how to analyze property and buildings for energy savings, use those savings to finance solar energy, then use those savings to pay for daylighting, rainwater harvesting, greywater systems, bioremediation, solar hot water, and waste recycling and compositing. Green analysis applies to the retrofitting of existing buildings or as site analysis to guide the design of new buildings.


TUESDAYS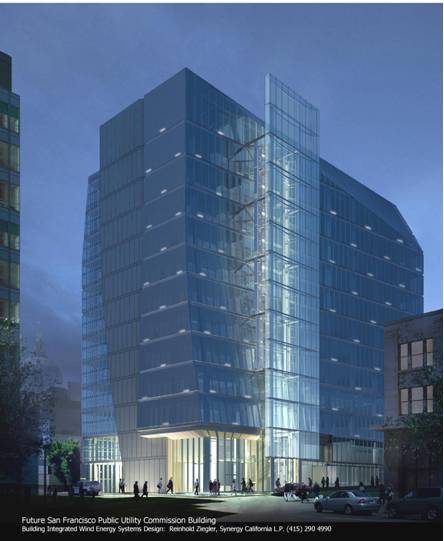 Energy system for new San Francisco PUC building by Reinhold Ziegler.
DE-150
ALTERNATIVE ENERGY SYSTEMS
Sun and Wind
Tuesdays, 6:30 – 7:45 p.m.
3 units. 6 weeks. $250.
Class starts Tuesday, March 26, 2013.
Instructor:  Reinhold Ziegler, CEO and Founder, Synergy International, Inc.
Solar power gets cheaper and more efficient every year. As people switch to plug-in hybrids and all-electric cars, the economics get better and better. This class covers what you need to know to understand solar technology, to choose systems and the best methods of installation and operation, and how to combine solar energy with other alternatives, such as wind power.  Includes updates on new technology, the growing solar industry, and improved methods of solar and wind energy calculation.
About the instructor:
Educated as a mechanical/electrical engineer and industrial designer, Reinhold Ziegler is a pioneer in the development of appropriate technology and renewable energy systems. He coauthored the solar village classic, Village One, is a builder of the U.S. Department of Energy's Energy Pavilions, founder of Earth Lab Institute, staff member of the Farallones Institute's Integral Urban House, third major wind farm developer at Altamont Pass, holder of several energy utility and design patents, systems architect of building-integrated PV and Wind turbines, designer of aeroponic and aquaponic growing systems, and pioneer of carbon sequestration through living machines,  bio-char and agro-forestry. www.synergyii.com.

Cross section showing water harvesting and recycling systems.

E-180
GREY WATER REUSE, RAINWATER CAPTURE,
AND ECOLOGICAL SANITATION
Tuesdays, 8:00 – 9:15 p.m.
3 units.  6 weeks.  $250.
Class starts Tuesday, March 26, 2013.
Instructor to be announced.
Drinkable water on our planet consists of less than a small percentage of 1% of all the water available. Water will have to be conserved and collected on a local scale, building by building, in the years ahead, to avoid catastrophic consequences. Meanwhile, it's a practical economic benefit for buildings to go "off the pipeline," in terms of water supply, just as many are going "off the grid" to generate their own electricity.
Re:  Greywater Action:  In 2009 Greywater Action joined with a water organization called "A Single Drop," to connect international clean water work with U.S. hands-on water conservation strategies.  "A Single Drop" is the fiscal sponsor of Greywater Action www.greywateraction.org.


WEDNESDAYS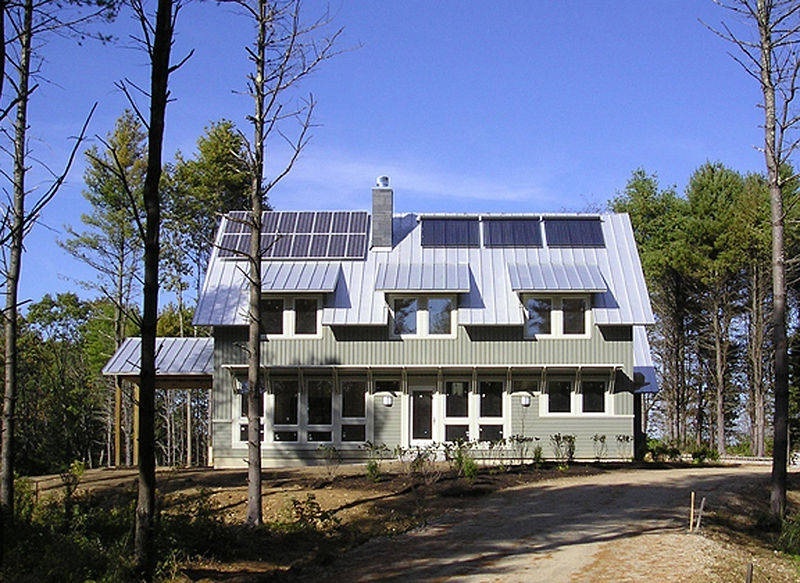 LEED certified residence.
E-9
GREEN BUILDING CERTIFICATION
The basics of LEED and other green building certification systems
Wednesdays, 6:30 p.m. – 7:45 p.m.
3 units.  6 weeks.  $250.
Class starts Wednesday, March 27, 2013.
Instructor:  Katy Hollbacher, P.E., LEED-Accredited Professional and Certified GreenPoint Rater.
Creating Your Niche in a Dynamic Green Building Marketplace
This course is for architects and green building consultants who want to learn how to strategically position themselves in this rapidly evolving industry. What does it take to create a truly green and successful building? How do rating programs facilitate building green, and where do they falter? What does green building mean to YOU—and how can you best leverage your skills and expertise to create a unique niche for yourself and your business?
Sessions
1.     Defining green: Metrics and definitions – HERS Index, net-zero, plus-energy, regenerative; cost, payback, lifecycle; embodied energy, operations energy, modeling predictions, user behavior, performance monitoring.
2.     Delivering success: Making collaborative, integrated, whole-systems design and thinking a reality on your projects. Keeping sight of big-picture objectives without getting lost in a sea of "points."
3.     Green building programs, Part 1: Understanding the most prominent and up-and-coming programs and how to leverage them in your work. Overview of LEED Homes, GreenPoint Rated, CalGREEN, ENERGY STAR, Green Communities, and Passive House.
4.     Green building programs, Part 2: Thinking beyond the lot line — neighborhoods, communities, cities and the planet. Overview of LEED for Neighborhood Development, GreenTRIP, and Living Building Challenge.
5.     Green building programs, Part 3: Passive House — the fundamental science and principles behind this rigorous energy performance standard, and steps involved in applying the standard to residential and non-residential projects.
6.    Making it happen: What do you want to be when you grow up? Identifying your motivations, leveraging your strengths, and developing strategic business partnerships. Creating clear, focused goals to transform your business model and maximize your success.
About the instructor, Katy Hollbacher
Principal and Founder of Beyond Efficiency, Katy Hollbacher, P.E., is a licensed Civil Engineer, Certified Passive House Consultant, LEED Homes Rater, and Certified GreenPoint Rater with a Master of Science in Civil/Structural Engineering from the University of Michigan. She also holds California's Title 24 consultant credentials of Certified Energy Analyst (CEA) and Certified Energy Plans Examiner (CEPE). Katy combines fifteen years of practical experience with in-depth knowledge of technical practices to lead Beyond Efficiency in helping professionals integrate technical expertise, analytical tools, and common-sense best practices into their multifamily and mixed-use projects. She spent five years managing Build It Green's suite of technical information programs, including the "Ask an Expert" green building hotline and Berkeley's Best Builders program. Katy was also an engineer at Wiss, Janney, Elstner Associates, a national consulting firm specializing in the forensic investigation and repair of modern and historic structures, and has pounded nails, hung drywall, and pulled wires on various construction projects.
Contact Katy at 415-236-1333 or katy@beyondefficiency.org.
D-14
PERSPECTIVE AND RENDERING
Techniques of Presentation
Wednesdays, 8:00 – 9:15 p.m.
3 units. 6 weeks. $250.
Class starts Wednesday, March 27, 2013.
Instructor:  Jon Larson, LEED AP, Build It Green-Certified, GreenPoint-Rated Architect, and much-published Artist.
The quality of design presentation is often as important to the acceptance of a project as the design ideas themselves. This course demonstrates professional visual presentation techniques, graphic composition, and media.
About the instructor:
Jon Larson is an architect, illustrator, and painter, and has taught architectural sketching at the Building Education Center in Berkeley for over 20 years. He is Build-It-Green Certified, a LEED AP, and a GreenPoint Rater. He has taught art classes throughout the Bay Area, lectured on Art in Everyday Life, and taught drawing at the Waldorf School in Berkeley. His book and magazine illustrations have been published nationally, and his artwork has been exhibited in several galleries throughout the Bay Area.
Check out our most popular distance learning programs: