"SFIA has the nation's first and most comprehensive Eco-Design programs including distance learning and continuing education. SFIA is devoted to innovation and reform in architectural education, offering open classes and a Master of Architecture program to graduate students, architectural employees, practicing professionals, and those who have yet to start their architectural education."
Ecological Design and Building Schools: Green Guide to Educational Opportunities in the United States and Canada, by Sandra Leibowitz Earley
SFIA is the only 100% sustainably focused architecture school with the longest running and most comprehensive ecological design and green architecture programs in the world. SFIA has been offering green building and ecological design degrees for twenty years as a wholly integrated part of its architecture degree programs. SFIA also offered the first distance learning Green MBA Program. Students at SFIA have the opportunity to pursue undergraduate and graduate degrees in architecture, ecological design, green building and business administration in sustainability.


A beautiful, convenient, green facility: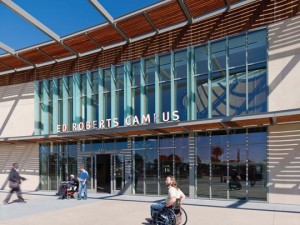 The Ed Roberts Campus Building
3075 Adeline Street, Berkeley, California
All current courses are online only.