Available via Distance Learning.
Units: 25-75
Courses: 8-25
Tuition: $2,400 – $7,500
Enroll by printable enrollment form.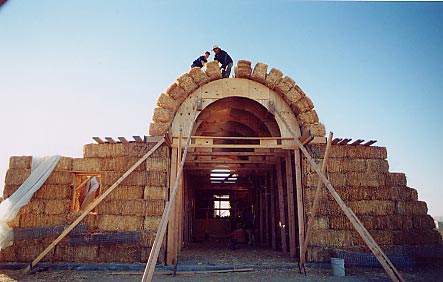 New architectural forms, simpler construction, and humane community plans are emerging from a new ecological awareness in the world today. SFIA is leading the way in ecological design education. SFIA strives to raise awareness about ecological design and encourage the development of design programs to educate architects, consultants, advisors and faculty members who will create future programs.
Students who enroll in SFIA's Ecological Design program do not have to be students of architecture. The program is open to anyone seeking a career in Ecological Design or related profession as well as anyone in the design profession who wants to pursue eco- related disciplines.
The Master of Ecological Design program offers an advanced professional education Ecological Design. 75 units are required if you have little or no previous design education or experience. 25 to 75 units, including up to 36 units from the Associate of Arts Degree and Technical Certificate Program.
A combination degree, Master of Architecture and Ecological Design, is also offered and requires a total of 125 units.
Those who qualify for this program:
Distance Learning students who have completed Program One
Students who hold a degree from a two-year architecture degree program
Students who have had at least four years architecture work experience
Credit is provided for comparable courses taken at other institutions — up to 15 units. Students are responsible for deciding their own programs from among optional elective courses, but they are expected to carry a balanced program, including ecological and architectural design, media, construction technology, and project management courses. The Core Program of courses (described elsewhere) or comparable previous education, is required of all students..
Some students prefer to not be candidates for a degree and/or to enroll only in noncredit classes. Status can be reviewed and modified at any time, upon request. And noncredit courses can be upgraded to credit, with completion of all work assignment, payment of "for credit" tuition, and faculty review.
Listed below are program options for students who seek a Master of Ecological Design Degree at SFIA.
Option 1: If you have graduated from a five-year professional architectural program, you'll need to earn approximately 25 to 50 more units (2 to 4 semesters) for a Master of Ecological Design degree. The exact amount required will be determined by a review of transcripts, work resumes, and previous project work. (Anyone who has a license to practice architecture, regardless of prior educational background, would qualify at this level.)
Option 2: If you have graduated with a four-year BArch from an unaccredited school such as the UC Berkeley undergraduate program, you'll need to earn approximately 50 units (3 to 4 semesters). As above, the exact amount is determined by an examination of record and work.
Option 3: If you have a degree in a discipline other than architecture or have achieved the equivalence of BA status in another discipline through education and/or work experience, you'll need about 75 units. This will require approximately 6 semesters.
Option 4: If you have no education or experience in architecture and no undergraduate degree, you'll be enrolled on a conditional basis and "indeterminate status" until your work reaches an acceptable level of competence. Then you'll be classified as a candidate for the Master of Ecological Design degree. You'll be required to complete 75 or more units of closely supervised study which will require 6 or more semesters.
Option 5: If you have some partial education and/or work experience related to architecture, we will evaluate your transcript(s) and confirm your resume of work experience to establish the approximate equivalent credit that can be allowed for your prior work. Work experience equivalency may be limited to 6 units of credit to be applied to the 75 or more required units.
School credit will be based on equivalency with courses offered at SFIA. A 5-unit studio class at an accredited school, for example, would count for 5 units at SFIA.
Option 6: If you have a degree or credit from a non-US architectural school, your status will be determined by the hours spent in your previous courses of study and work samples from each course.
Those without an undergraduate degree can be enrolled for credit on conditional status until they establish they are capable of handling graduate level studies.
SFIA does not provide a Master of Architecture degree based solely on professional experience. School work must be completed as per the options described above.
These options presume the student also has satisfactory knowledge of the sciences and humanities and acceptable communications skills. If the student does not have such background, such work will have to be added to the 75 units of professional educational credit.
Distance learning options may be available for core course work at school. Video tapes and course materials are provided and work evaluated as for any on-site study. The non-credit option is not provided for distance learning classes.
Previous course project work is most important when reviewing status. Grades or grade point average are not considered except that course work has to have been completed to be counted. Courses that received F, Non-Pass, I, or withdrawal status would not be counted.
Courses

E 301
History of Ecological Sciences
3 units
Ecological design and environmental science have a long history, including the evolution of indigenous architectures. This course reviews the big picture. Textbook: The Timeless Way of Building, by Christopher Alexander
E 302
Case studies in Ecological Design and Land Planning
3 units
This course explains the steps and multiple considerations involved in methodical and environmentally sensitive site planning. Textbook: Environmental Planning for Site Development, by Anne R. Beer
E 303
Indigenous Peoples' Building Methods and Materials
3 units
This course shows how architectural problems have been solved over millennia, through trial and error, and humanity's universal desire to build in harmony with nature. Textbook: Native American Architecture, by Peter Nabokov and Robert Easton or Architecture without Architects: A Short Introduction to Nonpedigree Architecture, by Bernard Rudofsky
E 304
Advanced Integrated Bioclimatic Design
3 units
This course deals with the design and technology of climate-sensitive architecture, as practiced by Ken Yeang, the leader in the field. Textbook: Ecodesign: A Manual for Ecological Design, by Ken Yeang
E 305
Alternative Lighting & Energy Systems
3 units
Artificial light can be eliminated in the daytime, and nighttime lighting can be designed far more economically than has been common in the past. This course deals with artificial systems and how to best integrate them with natural light. Textbook: Lighting Modern Buildings, by Derek Phillips
E 306
Building Energy Management
3 units
A course on design and technology for integrating diverse energy and ventilation systems in more complex buildings. Textbook: Building Energy Management Systems: Application to Low-Energy HVAC and Natural Ventilation Control, by G. J. Levermore
E 307
Urban Ecology
3 units
This course is an overview of worldwide urban ecological problems and solutions. Textbook: Cities for a Small Planet, by Richard Rogers and Philip Gumuchdjian
E 308
Exterior & Interior Plantscaping
3 units
A course on the complete integration of plants, planting systems, and natural and human-made ecosystems. Textbook: Design for Human Ecosystems: Landscape, Land Use, and Natural Resources, by John Tillman Lyle and Joan Woodward
E 309
Organizing Principle & Nature-Based Architecture
3 units
A course on the fundamentals of making and experiencing Organic architecture. Textbook: Evolutionary Architecture: Nature as a Basis for Design, by Eugene Tsui or Architecture as space: How to Look at Architecture, by Bruno Zevi
E 310
Advanced Technology & New Materials
3 units
This course deals with new technology and new applications of centuries-old, nature-sensitive construction methods. Textbook: Construction Ecology: Nature as a Basis for Green Buildings, by Jan Sendzimir, et al
E 311
Co-housing & Other Alternative Living Systems
3 units
Co-housing, the sharing of land and resources by groups of individuals and families, can be an economical alternative lifestyle that also serves ecological values. Such values can be applied to community planning of all sizes. This course reviews the history and current status of such projects. Textbook: Sustainable Housing: Principles & Practice, by Brian Edwards and David Turrent or Recreating the World: A Practical Guide to Building Sustainable Communities, by Michael Bopp and Judie Bopp
E 320
Student-Initiated Independent Study & Thesis Project
6 units